Introduction
Edward Buller gave us the hard hat in America in 1919. Called the Hard-Boiled Hat, this canvas and leather headgear was the first commercially available head protection device. Now worn by millions of workers, Bullard's hard hat revolutionized the safety-product industry, earning him a spot in the National Inventors Hall of Fame.
"Bullard's invention came at an important time," says Peter Liebhold, curator in the Division of Work & Industry at the Smithsonian's National Museum of American History, which has three examples of the Bullard hard hat in its Mining Lights and Hats collection. "Mines were one of the first regulated workplaces in America. His hard hat protected employees and limited the liability against employers."
What are the five most vital facts a company and a worker should know about their hard hats?
Number One
When are hard hats required?
There are two basic hazards in the workplace when OSHA says that the employer should provide and require the wearing of hard hats. They are struck by hazards (ex: struck by falling objects) and electrical shock (ex: voltage over 50 volts).
Number Two
What hard hats are required?
Hard hats are designed, engineered and sold in three classes: Class E, Class G, and Class C.
A Class E hard hat protects from impact to the head and additional protection from electrical shock up to 20,000 volts.
A Class G hard hat protects from impact to the head and up to 2,200 volts of electricity.
A Class C hard hat protects from impacts but has no electrical safety protection.
Hard hats also are designed, engineered and sold in two types:
ANSI Type 1 hard hats meet stringent vertical impact and penetration requirements.
ANSE Type 2 hard hats meet vertical and lateral impact and penetration requirements, and have a foam inner liner made of expanded polystyrene (EPS).
Number Three
How do you properly don, doff, adjust, and wear a hard hat?
OSHA requires that employers train workers on how to don (put on) and doff (take off), adjust, and wear a hard hat. Some hard hats are allowed to be worn backwards if the label on the inside shell shows that it was designed to be worn in that manner. Reverse donning hard hats are marked with a "reverse donning arrow". They can be worn frontward or backward in accordance with the manufacturer's wearing instructions. They pass all hard hat protection requirements whether worn frontward or backward. Here is the logo.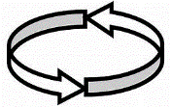 Number Four
What are the limitations of a hard hat?
This is a tricky one. All manufacturers of hard hats must proof test a certain number of manufactured hard hats to a uniform standard: ANSI/ISEA Z89.1-2014. The standard sets guidelines for design and material.
Here are a few of the ANSI standard test requirements:
Helmets shall not transmit a force to the test head form that exceeds 4450 N (1000 lbf) (pound for feet). Maximum transmitted force of each individual test sample shall be averaged. The averaged values shall not exceed 3780 N (850 lbf) (pound for feet).
Hard hats must resist heat up to at least 1500 degrees.
Number Five
What are the requirements for proper care, maintenance, useful life, and disposal of hard hats?
Hard hats should be cleaned with mild soap and water and inspected on a regular basis. The useful life of a hard hat has been misrepresented among many employers.
Here is the bottom line: manufacturers recommend replacement after 5 years of use. In other words, the useful life of a hard hart starts at the time of issue not the manufactures' stamped date on the brim. Most suspensions in a hard hat are required to be replaced every year. Follow manufacturer's instructions.
Finally
If you just do not want or like to wear a hard hat, you can be exempted( just kidding). Your head just must pass the following test:
First you will undergo a 24-hour underwater test. Maximum permitted absorption is 0.5 percent by weight. Air will be furnished by the company for the 24 hours at no extra charge.
Passing that, an impact test will be conducted. While lying horizontal with your head resting on a steel plate, an 8-pound steel ball must be dropped 5 feet several times with no damage to your head.
Next, your head will be subjected to a variety of acids, solvents, oils and industrial gases. It must pass with no damage or deformities.
A propane torch will be used to determine if your head is fire resistant.
If there are any holes in your head, it will restrict you from a class B rating.
For the final test, you must sustain 2200 volts AC, 60 Hz, for three minutes with leakage currents not exceeding nine milliampres. Breakdown threshold has been established at 30,000 volts.
All tests must be conducted at a variety of temperatures ranging from -20 to 140 degrees Fahrenheit.
If you don't feel you can qualify, don't despair. Although not as pretty as your hairdo, your hard hat does provide protection for your head from all the above.
Remember, unless you receive an exemption certificate, you must continue wearing your hard hat. Not wearing one is a privilege that will be given only to those who undergo proper certification and are designated: "HARD HEADS".
Hard Hat Warnings and Precautions Summary
Never alter or modify the hard hat shell or suspension. This can drastically reduce the amount of protection provided. Drilling holes in the hard hat shell for ventilation purposes is always prohibited.
Always avoid contact of the hard hat with electrical wires.
Never use a suspension that is not intended for use with a particular shell or one that is made by a different manufacturer.
Never carry or wear anything inside of your hard hat between the suspension and the shell. A clearance must be maintained between the hard hat shell and the wearer's head for the protection system to work properly. A ball cap or other object may limit this clearance. An object placed under the cap may also contain metal parts that may diminish the dielectric protection provided by the hat. There are some products, such as winter liners and sunshades that are designed specifically to work in conjunction with hard hats. Be sure to follow manufacturer's recommendations for the use of these products.